I'm so excited to be participating in The Magical Product Swap!
This is such a cool idea! If you haven't seen past product swaps, here's how it works...
The awesome Jessica Stanford matches two bloggers up to switch a product from their
TPT Store
. Each blogger gets to test out the product in their own classroom, and review it right here on their blog!
I was so fortunate to be matched up with Kelly at
Beg Borrow Steal
. If you don't already know her, she is an amazing kindergarten teacher with an even more amazing blog! Her blog was one of the first that I started following. She is definitely worth checking out!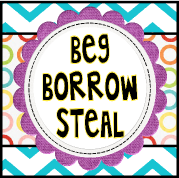 Today I am reviewing Kelly's
Out of This World Math and Literacy Packet
. This packet includes six centers (three literacy centers and three math centers).
We spent yesterday afternoon exploring these out-of-this-world centers. My firsties had a BLAST! This was a great review of skills we've taught this year in first grade. I divided my class into six groups, and partnered them up within their groups to complete each center. Check us out!!!
Astronomical ABC Order
Sunsational Contractions
Flying Fact Families
(not sure how this is the only pic I ended up with of this one, oops!)
Outer-Space Skip Counting
Universal Sum Matching Game
Rocketing Read the Room
When we were done, I asked my first graders what activity they liked best, and why. EVERY hand shot up! Here's a few things they had to say...
"I liked the ABC order because the pictures helped me to read the words."
"I liked the Fact Families because we have been practicing them and I'm really good at them."
"I liked the Skip Counting because I got to count by 2's."
And the (almost) unanimous fan favorite... Rocketing Read the Room!
"I liked the Read the Room because I got to go around with my friends and find the hidden words."
They seriously could NOT get enough of the read-the-room activity. We have not done any read-the-room activities this year (shame on me!), but I can clearly see that I will be incorporating this popular activity more regularly into my classroom.
Want to see what product of mine Kelly reviewed? Hop on over to her blog and check it out!