I'm so happy that it's May! The weather is finally getting a little more mild. May and June are super busy months but there are so many fun activities both in and outside of school!
Listening - Old School is on TBS. This movie makes me laugh out loud every time I watch it! I adore Will Ferrell and Vince Vaughn.
Loving - My nieces will be visiting this week! I'm so excited because I haven't seen them in what feels like forever. The hard part will be that they will be an hour and a half away while I'm working during the week. But they are planning a trip to visit my classroom and hang out so that makes me happy. And I'll get to spend all of Mother's Day weekend with them. WAHOO!!!
Thinking - So I signed up for the big race on Sunday. 10 miles of hills. I think I might be crazy. And I wish the race was tomorrow instead of Sunday because I'm going to be nervous and worried all weekend! What have I gotten myself into?!!
Wanting - Now that it's May I'm ready to start making summer plans. The countdown is ON for many of you, since your summer breaks start at the end of May. I have until June 25th (ouch!) but I'm already in the mood to start planning some trips and fun times.
Needing - I am badly in need of a good night's sleep. It's been a very long week. I'm looking forward to curling up and sleeping in tomorrow!
Surprise
- Well it's no surprise that I LOVE Susan's blog ~
T.G.I.F
! She is an amazing first grade teacher and blogger. She shares AWESOME ideas and strategies. Check her out!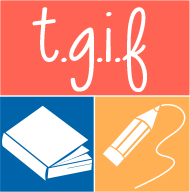 What are you Currently up to?